The last three days have been very busy for me: on wednesday I went to see HP at the cinema and for several reasons it took me all the day.
Yesterday I travelled with a friend I haven't seen in the last three years to the Mart museum (in a beautiful place among mountains and forests) were are currently exposed many impressionist and postimpressionist paintings from the D'Orsay Museum in Paris. I was really satisfied even if I hoped there would have been more paintings: when I visited the Uffizi gallery in Florence some years ago I was looking forward to seeing Botticelli's paintings and in the end I was really disappointed because the colours were so dark and turned off and the glass in front of the canvas didn't allow to see well the whole painting because of the reflexions (they were very large). This time there were no glass and you could see every single brushstroke. I stood in front of some of the works for a long time enchanted by their magic and the brightness of their colours. I was so excited to see the paitings from Monet and Gauguin that I analized during my final exam a few weeks ago and all the paintings from the other artists I studied, like Caillebotte, Manet, Seurat, Van Gogh, Cezanne, Renoir and many more. But there was a lot of works that were totally new to me aswell: me and my friend totally fell in love with this beautiful painting by Bèraud: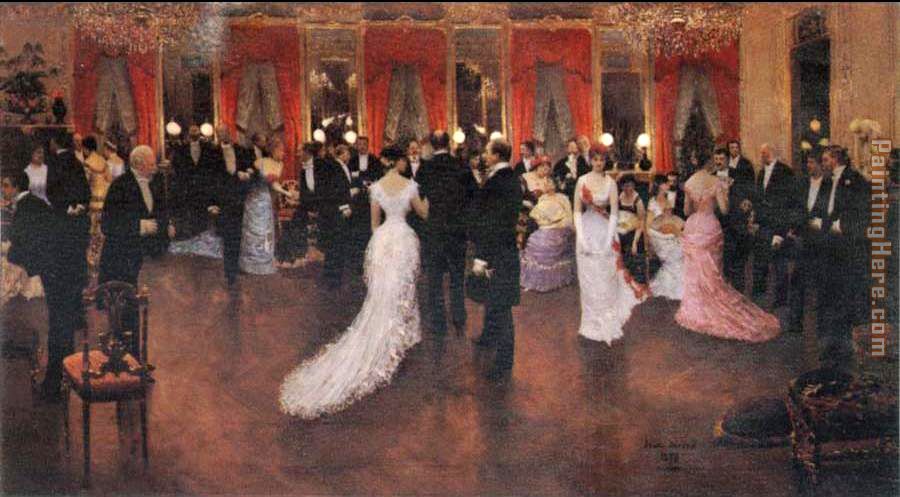 It was totally amazing: you could feel the perspective depth of the room thanks to the lights, the floor, the reflections in the mirrors and even the frame. Seeing a painting for real is totally different than seeing a picture on a screen or a book page. We also visited a futuristic exposition in the same museum but we were a bit sceptical in front of some of the works like a cement cube with a nose attached to one side. It's been a tiring but fulfilled day.
This morning I had to do the bodypainting experiment I talked about a few posts ago. I'm quite satisfied of the work I made even if I'm still too slow and the white kryolan acquacolor didn't cooperate. :/ The photographer had a very good idea for the pictures. I'll show you as soon as they are ready.
Basically I'm keeping myself busy because everytime I'm alone and thoughts start running I feel bad and often cry. Stupid human feelings.
Now it's better to me to go for practising: this sunday I'm going to travel to the recording studio in Rome to record the vocals for our album.